Ruaha National Park
Ruaha National Park is the second largest national park during your Tanzania vacation after Selous and located in central Tanzania. Due to its relative inaccessibility, it gets far fewer tourists than the any comparable park in the Northern circuit. The Great Ruaha River flows through the park and is the most important river in the park.
Ruaha has a big variety of plants and trees. But it is mainly characterized by its acacias and the many baobab trees. There are over 1,650 plant species that have been identified.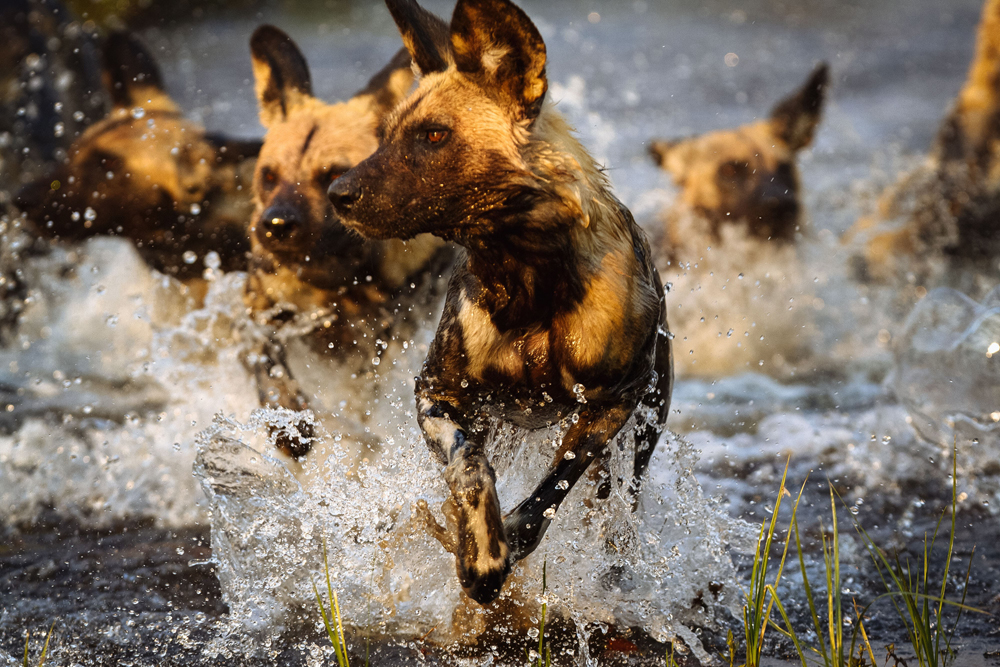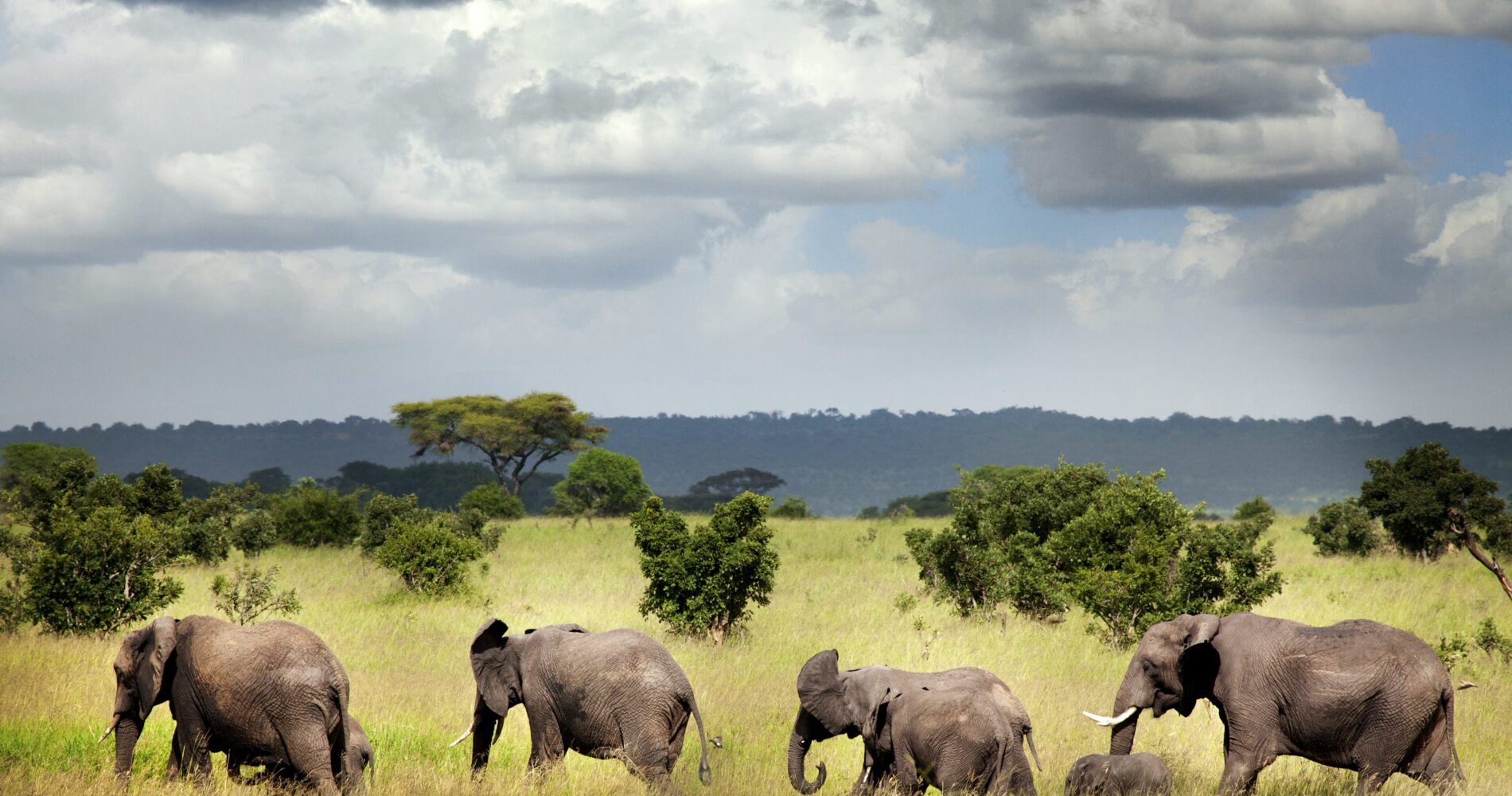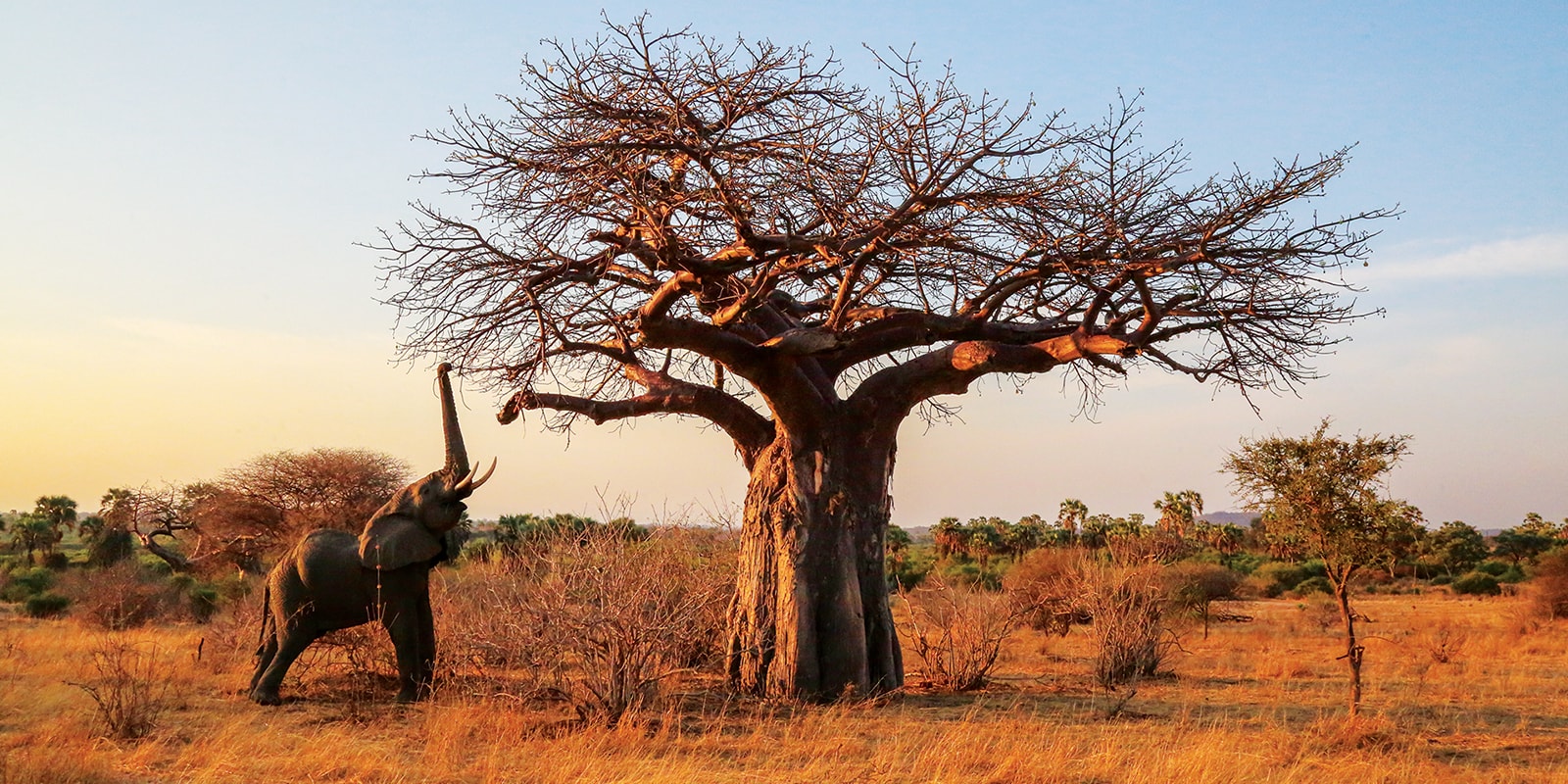 Wildlife in Ruaha National Park
Ruaha has a huge population of African elephants. Some consider it to be the most concentrated population in Africa! The National Park is probably home to more elephants than any other parks in East Africa has. It is also home to great mammals like kudu, sable and roan antelopes which cannot be found in any other national park. It also has nearly 10% of Africa's lion population living here! Other animals to spot here include leopards, cheetahs, giraffes. Many zebras, elands, impala, bat eared foxes and jackals live in the park. Despite the fact that no world-famous great migration takes place in this park, it is a beautiful park to visit. With a bit of luck, you may also see the endangered wild dogs in Ruaha National Park!
Reptiles and amphibians in the National Park
You can also find Reptiles and amphibians here! And crocodiles, poisonous and non-poisonous snakes, monitor and agama lizards and frogs live in and around the river. Ruaha National Park has an almost untouched and unexplored ecosystem. It will make your safari experience unique!
Birds in Ruaha
Not only is Ruaha the ideal place to watch elephants, but it is also a bird lover's paradise! Around 571 different species of birds live in Ruaha National Park, including the Crested barbet, Dickinson's kestrel, Pale-billed hornbill, Violet-crested turaco, Racket-tailed roller, Plovers, Kingfishers, Hornbills, Green-wood hoopoes, Sunbirds, Bee-eaters and Egrets.
Excursions and activities in Ruaha National Park
Ruaha is a great place for a quiet but amazing safari.
It can be perfectly combined with other parks of the Southern circuit like Udzungwa National Park, Mikumi National Park or Selous Game Reserve.
Travel time to Ruaha
Flights from Arusha, Selous, Zanzibar, Katavi, Mikumi, Iringa, Kigoma and Dar Es Salaam
Can be reached by car on a dirt road from Iringa (130 km)
Ruaha to Mikumi: 5-6 hrs drive
Ruaha to Udzungwa: 5-6 hrs drive
Ruaha – Selous: best to fly
Travel Tips from our experts about Ruaha
My name is Chengo and I am a guide at Ruaha National Park for 18 years. Most of our guests are amazed by the number of elephants that they can see here! Also bird watchers can't get enough of this park. And the beautiful landscape with its rivers and baobab trees is very pretty.
My advice:
How long to stay?
Don't spend less than 2 days here. The distance is big and the park is worth a longer visit!
Best option to reach this park is by flight.
Which hotel?
Accommodations in Ruaha are almost all of a high end level, I do recommend:
Ruaha River Lodge (silver)
Jongomero (golden)
Asanja Ruaha (platinum)
Best time to visit Ruaha
The road to Ruaha is passable throughout the year. Ruaha National Park has a bimodal pattern of rain forest; the short rainfall season begins November (February is best time for bird watching!), while the long season is between April to May. The national park experiences its dry season between June and October.
Information and facts
Ruaha National Park is mainly characterized by its many acacias baobab trees. It is best known for its large elephant population, which is the most concentrated population in Africa! With a bit of luck, you may also see the endangered wild dogs!
Most common animals
Elephants
Lion
Kudu
Buffalo
Crocodile
Sable
Roan antelopes
Giraffes
Zebras
Elands
Impala
Bat eared foxes
Jackals
Monitor and agama lizards
Crested barbet
Dickinson's kestrel
Pale-billed hornbill
Violet-crested turaco
Racket-tailed roller
Green-wood hoopoes
Facts about Ruaha
Covers an area of 20 000 km²
Second largest national park in Tanzania
Great Ruaha River
Ruaha highlights